As you might know, is safety in the chemical industry essential. For instance, one small mistake can have significant consequences. For this reason, chemicals cannot simply be stored and transported, and therefore many rules must comply. At ViVoChem, we are specialised when it comes down to chemical storage and transport. In addition to safe packaging, the warehouse itself must also be secure. Our modern ADR hall makes it possible to store chemicals safely. Are you curious about what AR warehousing entails and what ViVoChem can do for you? Then read on.
What is ADR?
During transport, everyone who is involved must be safe. Therefore, dangerous substances are divided into nine different hazard classes. These hazard classes are known as ADR classes. The ADR is part of the Dutch VLG, better known as (Vervoer over Land van Gevaarlijke stoffen), Inland Transport of Dangerous Goods. The abbreviation ADR stands for Accord Europée relatively au transport international de marchandises Dangereuses par Route. Each hazard class has its own rules regarding storing and transporting substances that ViVoChem must follow. The ADR includes different requirements in the areas of:
1. Criteria for classification of the dangerous goods.
2. Transport requirements.
3. Requirements for packaging and tanks.
4. Procedure for shipment, including labelling and documentation.
Specific rules have been agreed on in Europe on the transport and storage of dangerous goods. A European convention also applies to domestic transport. The treaty between 39 European countries was concluded on 30 September 1957 and entered into force on 29 January 1968. Every two years, the rules are adjusted based on new developments.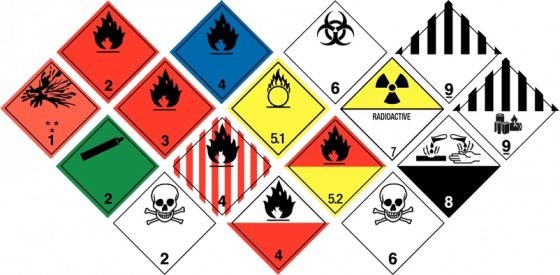 Which ADR Classes are there?
As mentioned earlier, dangerous goods are divided into nine hazard classes, the ADR classes. Raw materials in the same class have the same main hazard. There is a further subdivision per class. To make it more straightforward for you, we have created an overview:
| | |
| --- | --- |
| ADR1: Explosives and articles | ADR5.2: Organic peroxides |
| ADR2: Compressed, liquefied or compressed gases | ADR6.1: Toxic substances |
| ADR3: Flammable liquids | ADR6.2: Infectious substances |
| ADR4.1: Flammable solids | ADR7: Radioactive substances |
| ADR4.2: Substances susceptible to spontaneous combustion | ADR8: Corrosive substances |
| ADR4.3: Substances which emit flammable gases in contact with water | ADR9: Other (environmentally) hazardous substances |
| ADR5.1: Oxidising substances | |
At ViVochem we can safely store the following ADR classes: 3,4.1,5.1,6.1,8, and 9.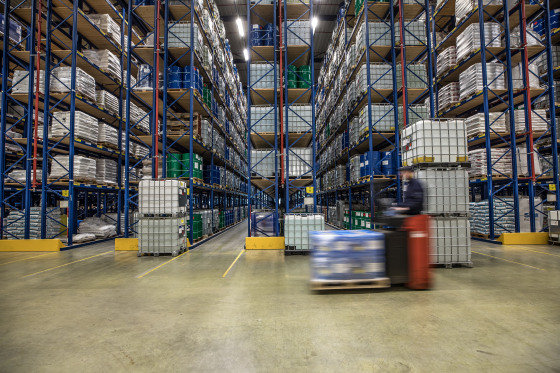 Storage in our Modern PGS 15 Hall
Did you know that we have a modern PGS 15 hall? The PGS 15 (Publication series Dangerous Substances) contains rules on the storage of hazardous substances. We find it very important that chemicals are stored safely. The PGS 15 guidelines make it possible for us to control the risks of the storage of chemicals. The guidelines relate to fire safety, occupational safety and environmental safety within the warehouse. Due to these guidelines, customers and neighbours are assured that all chemicals within ViVoChem are safely stored.
In the PGS, a distinction is made between storing 10tons of chemicals, either more or less is, stored at VivoChem. The PGS includes several points that are very important when storing chemical raw materials, namely:
• Some ADR classes must not be stored together.
• Doors and walls must be fire-resistant.
• Chemicals need to be labelled to know what it contains.
• Leaked and spilt liquids must be able to be collected.
• Floors must not allow liquids to pass through.
• There must be no direct connection to the sewerage system or soil.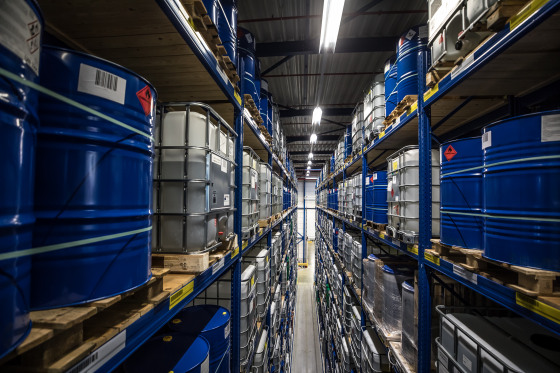 Protection Level 1
ViVoChem's warehouse has the level of protection, the highest achievable level of protection. Our warehouse is equipped with the required fixed fire control and fire extinguishing system (VBB). At the level of protection 1, a fire detection system with notification to an alarm centre must be present. The mandatory (semi) automatic extinguishing system ensures that we can quickly detect and extinguish a fire at the initial stage, mainly done by our sprinkle system. Due to these requirements, ViVoChem can store chemicals for you.
About ViVoChem
ViVochem is the B2B partner in distributing, storing, drumming, and exporting packaged raw materials. We have over 13 years of experience in chemical distribution and can assure you of extensive knowledge, expertise and know-how. We are ready to help you with all your processes.
Our spacious and modern warehouse allows us to fill and export your chemicals.
Do you not have the space, or are you not allowed to store chemicals at your location? No worries, we can quickly and safely store your chemicals in our warehouse, with more than 9000+ pallet places.
More Information
Any Questions?
Curious about the possibilities for ADR storage in our warehouse? Do not hesitate and contact us by filling in the form below, and we will be happy to answer your questions and tell you more about our warehousing facilities.