ViVoChem has over 130 years of chemical industry experience, from acetone to sulphuric acid. We must ensure that our chemicals safely arrive at our customers' locations. ViVochem acquires qualified employees and possesses several packaging that requires all safety measures. Are you curious about ViVoChem's packaging possibilities? Read along.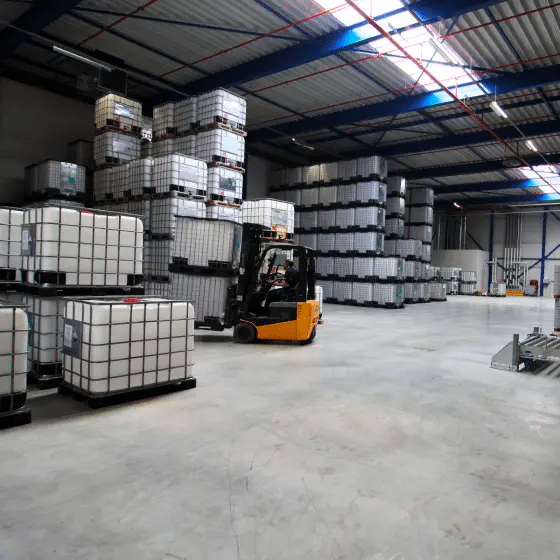 Our Packaging Possibilities
We have packages in different shapes, colours and sizes. Below you will find an overview of all our packages.

| | |
| --- | --- |
| IBC-container | 1000 litres |
| Varibox | 1000 litres |
| RVS container | 1000 litres |
| Pallet bags | 1000 kg |
| Big Bag | 1000kg |
| Pallet drums | 4x200 litres |
| Pallet PE drums | 4x200 litres |
| Pallet bins | 24x20 litres |
| Pallet Cans | 24x20 litres |
| Bulk | 20.000 litres in tank truck |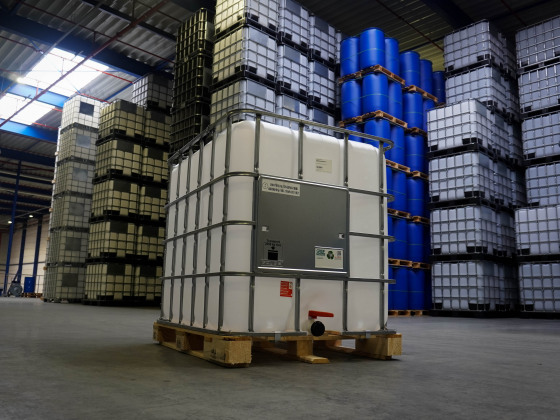 The Standard IBC and the Varibox
The standard IBC, the Most used Packaging for Chemicals
The Intermediate Bulk Container, better known as IBC, is the most used packaging for chemical raw materials. The IBC has the shape of a square and is montaged on a pallet. This design makes the storage and transport of chemicals. Furthermore, is the standard IBC delivered with a two-inch outlet, an outlet from the thread for the adapters and a butterfly tap to tap liquids. These outlets make tapping chemical raw materials more accessible. The standard IBC is furthermore equipped with a 225-millimetre filling opening. Due to this opening, we can quickly fill chemical raw materials. An unpleasant situation can occur when the IBC during transportation collapses and becomes damaged. However, no need to worry, the plastic container has an iron frame, which prevents the IBC from damaging during a fall.
The IBC can be used in several different branches. Think of the industrial sector or the feed and food branch. IBCs could also be used for flammable liquids. Two sorts of IBCs are used: the antistatic and the stainless steel IBC.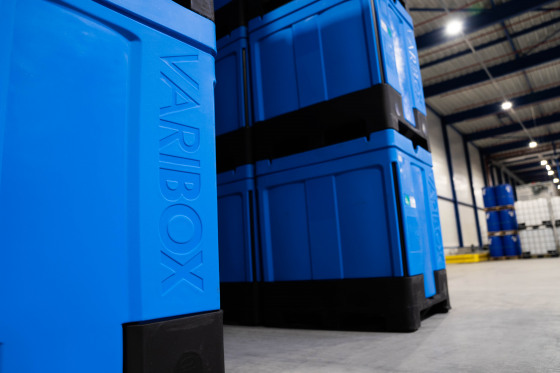 Extra Safety with the Varibox
For those who want extra safety, is the Varibox a great solution. The Varibox has a double-walled IBC that will protect against leakages. The outside functions as an additional protective layer and as a drain tray. When draining the standard IBCs, there is a risk for the employees who might get in contact with the substance, which can be very dangerous. The Varibox unburdens this risk with closed systems and efficient joints. The joints make sure that the Varibk can be emptied without being opened. ViVoChem supplies the proper joints for both acids and lye chemistry. Furthermore, do these joints make sure that there is no possibility of leakage of the chemical substance. Safe for both our employees and customers.

ViVoChem supplies standard IBCs and Variboxs on a deposit. When the IBC is emptied, ViVoChem collects them for you, and in return, you will receive your guarantee. A sustainable and green approach when it comes down to the packaging. Deliveries with packaging included are also possible, and you maintain the packaging.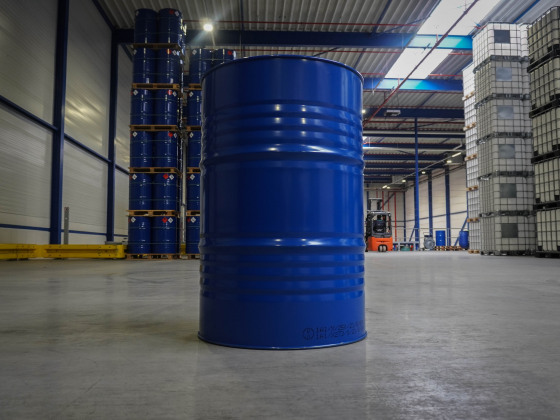 Steel drums & PE (Polyethylene) drums
When an IBC is too large, is it possible to order drums of 200 litres. We have two alternatives; the PE and steel drums.
The steel drums are produced with a ribbed outer wall. Both PE and steel drums can be used for large quantities of chemical substances. Nevertheless, some substances cannot be put in one of the barrels. Acidic substances, for instance, cannot be put into steel drums. Substances that affect polyethene cannot be filled in PE drums.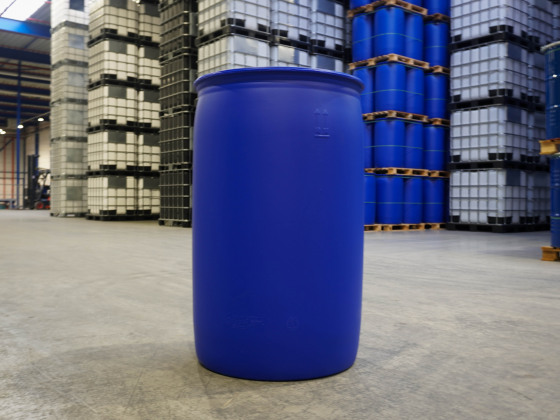 Our customers do not have to worry whether they purchased the suitable packaging with the correct chemical raw material. We will determine whether a product is ideal for a PE drum or a steel one. With this, we will prevent complications and dangerous situations. Both types of drums are well built and sustainable. When comparing both drums are, the steel ones more robust and better protected against leaks and collisions. The PE drums are more reasonable for transport due to being relatively lightweight.

Do you want to order chemical products in even smaller quantities? Do not worry; we supply chemicals also on pallets with cans or bins. Here again, there is a division between PE cans and steel bins, depending on the type of chemical substances.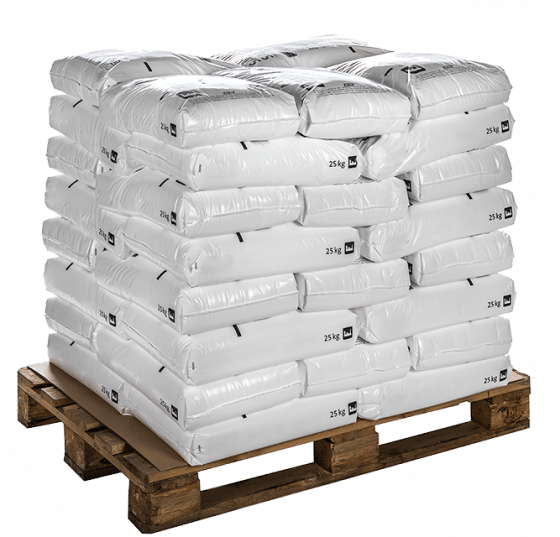 Solid Chemical Products in Bags & BigBags
Besides liquid chemicals, has ViVoChem a broad selection of solid chemical products. We deliver these solid substances in bags of 25 kg (40 bags per pallet) and Big Bags of 1.000 kg. A Big Bag is capable of transporting large quantities of solid chemicals. A filled Big Bag is 1,5 meters (59inch) high and fits on a euro pallet. Big Bags consist of woven plastic and can be reused. This synthetic material often consists of polypropylene or polyethene. The 25 kg bags of ViVoChem can consist of different materials, depending on the chemical substance that will fill the bag; this can either be paper, synthetic or a combination of both.
Bulk Delivery at ViVoChem
Do you need chemicals without packaging? That is possible as well. ViVoChem can deliver chemical raw materials directly in tank trucks (20.000 litres).
An Overview of our Packaging Possibilities
Much has been said, and we can imagine you did not remember everything; however, do not worry! In this video, Daniel talks about all our packaging possibilities so you can better understand what we supply.
About ViVoChem
ViVoChem is the B2B partner regarding the distribution, storage, drumming and export of chemical raw materials. With more than 130 years of experience in chemical distribution, we can ensure you our expertise, know-how and comprehensive knowledge. We are ready to help you with all your processes.

Curious about our solutions? Please contact our sales department. Our enthusiastic employees will gladly help you out.
More Information
Do you have a Question?
Do you want to order chemicals? Contact us or fill out the contact form below, and one of our employees will contact you within one working day.