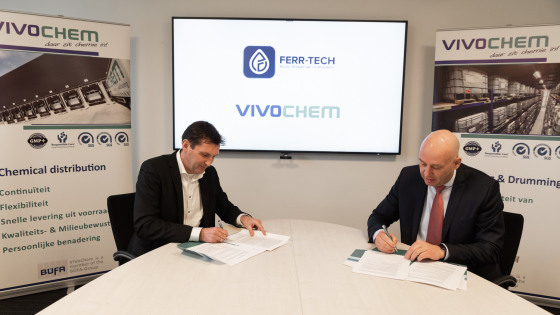 Almelo - On Monday, 31 January 2022, Ronald Ijzer, Managing Director at ViVoChem B.V., and Richard Bruins, co-owner and CEO at Ferr-Tech, signed a cooperation contract. ViVoChem has become the preferred distribution partner of the most potent and environmentally friendly oxidant, FerSol (FerrateVI in liquid form).
We spoke about the cooperation with Daniel Ramirez Bochard, Sales Representative BeNeLux at ViVoChem and Judith le Fèvre, co-owner and CMO at Ferr-Tech.
Collaborative Problem is solved with FerSol
It has been impossible to produce Ferrate(VI) stably and sustainably until now. Ferr-Tech is the first company that succeeded in this. Ferrate(VI) purifies wastewater until a more prominent element can be reused in the production process. The benefits for the user are: reusing water, decreasing costs for discharging water as the discharged water is cleaner, and replacing significant amounts of harmful chemicals and energy savings as water can be purified at lower temperatures. All this results in the application of a greener product. ViVoChem's ambition is to make industrial processes more sustainable by using green chemicals. By investing in FerSol and cooperating with Ferr-Tech, both companies can bring the product to the attention of potential customers who will benefit from using FerSol.
Making an Impact Through the Right Match
The theme of sustainability is high listed by both parties. It is one of the pillars on which the collaboration is built. The already existing and pleasant working environment, after several conversations, was decisive for officially contracting this agreement. Judith le Fèvre; ''We solely want to be the producer of FerSol, so we were looking for a distribution partner who values sustainability and green chemicals. After several conversations, it turned out that this also fits the vision of ViVoChem. They are a treasured distribution partner with their sales system."
Win-Win Situation through Cooperation
With the collaboration, the 'time to market' greatly accelerated. Ferr-Tech can entirely focus on the production of FerSol and R&D around the applications of Ferrate(VI), and ViVoChem takes care of the storage and transport; this creates new growth opportunities for both companies and allows (inter)national customers to be better served. With FerSol, VivoChem has added an exclusive and green product to its existing range. From ViVoChem's well-equipped warehouse, they can deliver from stock to customers within two to three days. They comply with all strict laws and regulations regarding the storage and transport of chemicals.

The First Delivery is A Fact
It has already been shown that cooperation can lead to synergy. VivoChem depicts itself as an ambassador of FeSol and already supplies to the market. For instance, Ferr-Tech arranged during the start-up phase the storage and refrigerated transport; however, ViVoChem took the supply to the United States reasonably quickly over. "We see that the interest in making industrial processes more suistainable and the urgency for the use of enviromentally friendly chemicals is increasing. By supplying FerSol, we make a positive contribution to the environment and still can meet the requirements of our customers and finally achieve our own sustainability ambitions," shares Daniel Ramirez Bochard. The collaboration only provides green benefits!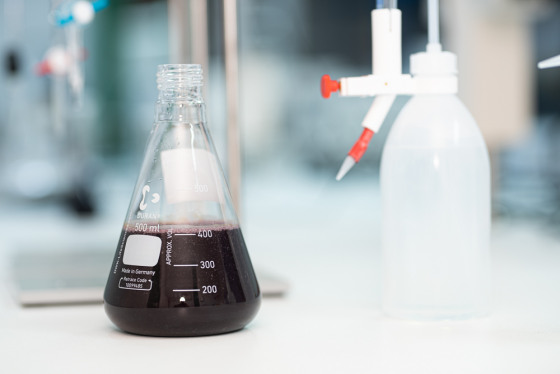 About Ferr-Tech
Ferr-tech is the global market leader in Ferrate(VI)-applications for industrial (waste) water treatment. Through a patented process, Ferr-Tech uses the available Ferrate(VI) products for the (waste)water industry. From its head office in Meppel, The Netherlands, Ferr-Tech runs the water lab and provides high-quality water tests, experiments, and analyses for customers. For more information about Ferr-Tech, please visit ww.ferr-tech.com or follow us via LinkedIn, Instagram and Facebook.
Discover Ferr-Tech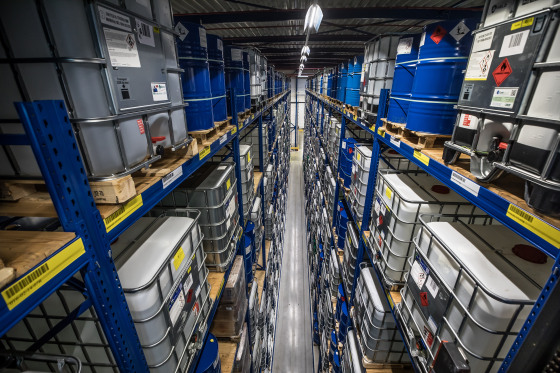 About ViVoChem
ViVoChem is a wholesaler and distributor of chemicals. From our modern warehouse in Almelo, ViVoChem delivers products to companies worldwide. Strict safety requirements are met at ViVoChem to store these goods. ViVoChem can store chemical products for companies that do not have the facilities to keep them themselves. ViVoChem currently has a capacity of 9.000 pallet places, but after the new construction project in 2022, this will be expanded to 20.000 pallet places.
ViVoChem is constantly committed to the well-being of its employees and the environment. Some examples of this are cooperating with Ferr-Tech and winning the title of 'Fittest company of Twente 2020.'.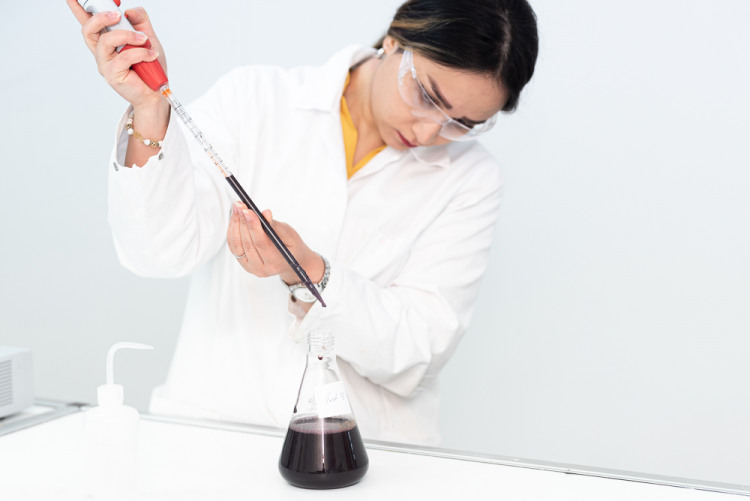 FerSol
More Information on FerSol?
Would you like more information about FerSol, or do you want to improve your wastewater treatment? FerSol purifies wastewater in a revolutionary sustainable way that presents water scarcity.